On July 1, 2023, Google Universal Analytics will stop collecting data. Have you already migrated to Google Analytics 4?
On July 1, 2023, Google Analytics Universal will stop processing data. And although Google has been warning about this situation for a few months, there are still accounts that have not stopped to think about what consequences this stoppage of data collection will have.
Although it may seem like a simple task, migrating to the new GA4 is not just activating automatic event tracking, including the code on your website or implementing the SDK in your APPs: you will need to adapt your current labeling to the new GA4 model, plan a new multiplatform strategy and learn the new features it offers.
Do not panic. At PSS Digital we want to help you so that this migration process is not a problem for your business 
Advantages of GA4
The event as the center of the data
In general, we are averse to changes, but it is common for them to improve what was previously available. This is the premise of GA4, a tool that focuses more on actions to give a visual of user behavior through data.
Some of the advantages of GA4 are:
More accurate tracking in the absence of cookies
We already know that Google Analytics must identify users through cookies or user identifiers for data collection. With the new GDPR rules that require user consent to place cookies in your browser, data collection is reduced. In this scenario, GA4 addresses this problem and aims to solve it through AI and a new flexible measurement approach.
In other words: Google Analytics includes artificial intelligence to fill in that data that is not available. 
An « event centric » data model
We can affirm that this is the big difference with Universal Analytics (AU). While UA was focused on the user and the sessions, GA4 changes its way of understanding the data, focusing at events.
GA4 thus ends the "event category", "event action" and "event tag": events only have a name and integrate all the variables you want to complement them. More simplification, more focus and therefore more visualization of the behavior. Hurrah! 
This change in data collection is not random: events help us keep track on the web and in mobile applications.
Cross-device and cross-platform tracking
As a eCommerce experts , this is one of the advantages in which we see an important advance for optimization and our CRO strategies, since one of our challenges is to have a clear vision of the user journey.
Google Analytics 4 offers us (finally) the possibility of making a tracking the same event on multiple platforms  (
) and goes one step further in aggregating user data for better analysis of the web user journey and thus better attribution of conversions. (And this is wonderful).
Improvements in the control of user data
To respond to the new consent rules and data protection laws, GA4 offers better control over user data, which you can read here!.
The automatic anonymization of IP addresses is particularly valued, but also more advanced possibilities in terms of data collection, storage duration and data deletion.
An interface with more design and user experience
For those of us who have been working with UA for so long, the interface is already like our home, but who hasn't struggled with all the reports and tools at the beginning? GA4 simplifies the properties and views and the many reports that are in UA.
Thus, the new Google tool streamlines our navigation, making the interface friendlier, simpler and more flexible: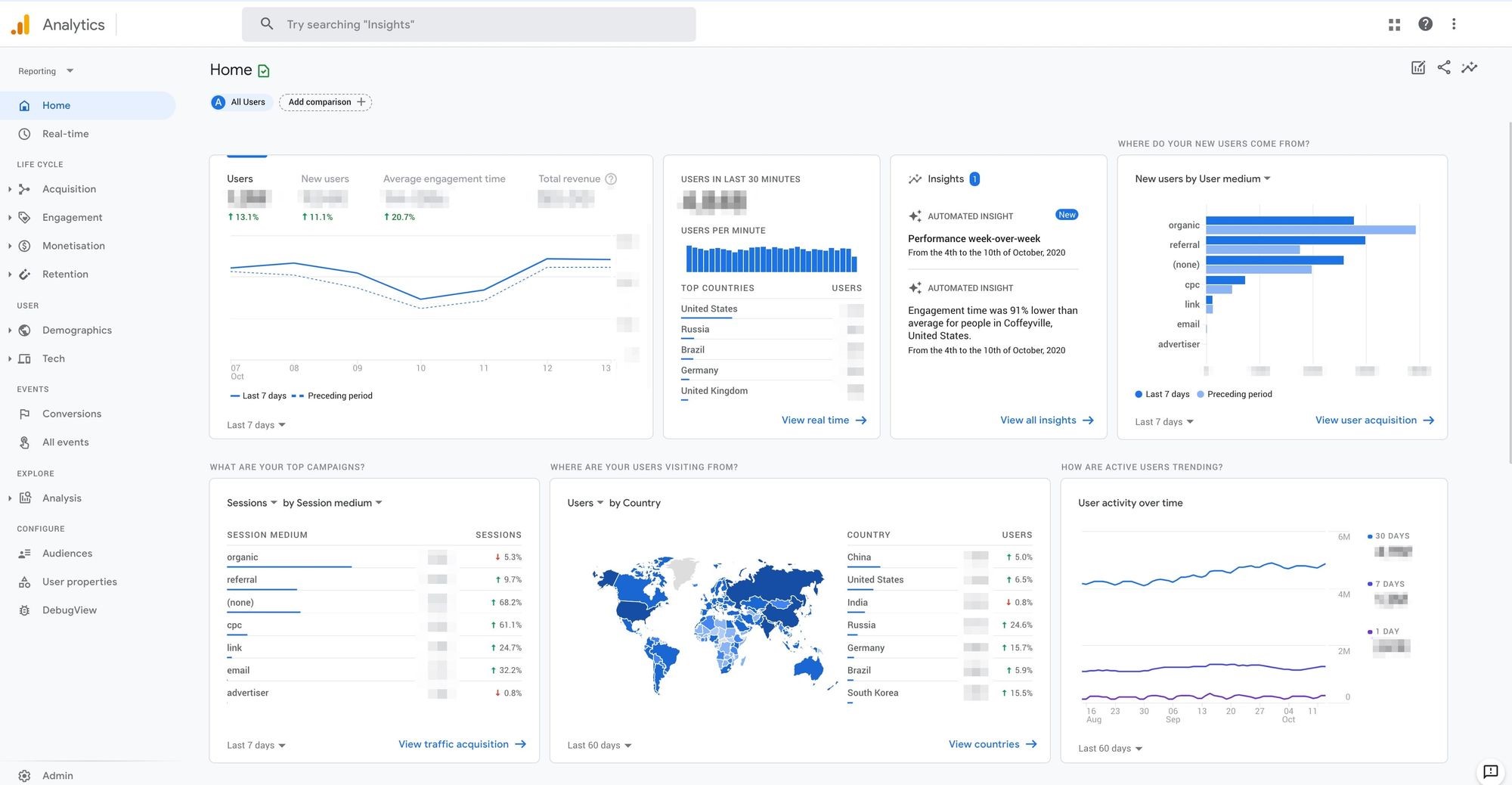 More views and more segments, but fewer reports
Reports that focus on customer life cycle:

Acquisition: information about the origin of the traffic.
Commitment: It allows you to measure the interaction based on the events and conversion events that they trigger, as well as the web pages and application screens that they visit.
Monetization: Lets you see the revenue generated from articles, ads, and subscriptions on your website or app.
Retention: to see how often and how long users interact with your website or mobile app after their first visit.

A more intuitive interface to create custom reports, audience ratings, etc.
Migration to GA4
Don't lose your data
Although UA will remain in force until 1 of Julio of 2023, It is important to familiarize yourself with the tool, as well as migrate your data to start working with all the advantages that the new GA4 offers.
At PSS we want to help you in this process and that you can make this migration before the final date approaches.
How do we do it? Keep reading.
A measurement plan defines, builds and articulates all the measurement systems in order to meet your business objectives.
At PSS Digital, we audit your digital assets and do a business consultancy to see where you are and what plan best suits your company to build a new measurement plan based on GA4.
We've gone too modern (or old) by calling it tagging, but after creating the measurement plan, the next phase is to create a tagging guide.
A labeling guide is essential for any analyst, it velocitys up the analysis of the data and helps us to understand it more easily.
3. Technical implementation
We will carry out tests to verify that everything that has been stipulated in the labeling guides works correctly.
We will leave you ready to use the new GA4 console so that you start seeing data that will make your business obtain the results you expect.